This week is 'National Ask Your Pharmacist Week' and the theme this year is 'meet your local pharmacy team' which is aiming to increase awareness of pharmacy services..and advantages of community pharmacy.
Community pharmacy, sometimes called retail pharmacy, make up one of the four pillars of the primary care system in England, along with general practice, optical services, and dentistry. Community pharmacies are probably most well-known as a dispenser and retailer of medicines, but their role is in fact much broader and includes other NHS and publicly funded services
What does a community pharmacist do?
A pharmacists role is varied, they are not only responsible for the accurate and safe supply of medicines to their patients, but also checking and advising on symptoms, answering questions, offering medical advice, or even administering your flu jab!
Here are some other things you can go to a community pharmacy for:
Travel Health Advice: If you are getting ready to go abroad you can speak to a pharmacist about relevant vaccinations, and they can also offer you advice about what you need to prepare for such as making sure you have enough of your medication before you travel.
Health Checks: Some pharmacies provide general health checks including blood pressure check, weight management, cholesterol, and blood sugar level checks. Your pharmacist can then advise you on the results and whether or not any further actions are recommended.
The NHS Stop Smoking Service: Your pharmacist can inform you on the different kinds of NHS services available if you want to quit smoking and find the right option for you. Some of the services include one-to-one and group sessions as well as different stop smoking treatments such as nicotine replacement therapy (NRT). Also, if you have recently been discharged from hospital from a smoking cessation attempt then your local pharmacist will help you with a treatment plan for your journey which could include the 12 week programme which features face-to-face or phone contact with an adviser.
Disposal of medication: You can take any unwanted, unused, and out-of-date medication to your local pharmacy for your pharmacist to dispose of safely however they do not accept used needles or syringes, you need to contact your local council to organise that disposal.
Pharmacists and their teams can also help you when it comes to things such as inhaler technique, how to take medicine safely, and answering any health based questions you might have.
Sexual health support in pharmacy
In a recent study of 5022 women in the UK, sexual health was ranked highly as a 'taboo subject' a topic that they feel embarrassed to talk about. Further, only 19% of women believed information about women's health issues shared on social media is completely, or even mostly, accurate.
Community pharmacies provide a safe, professional, and judgement free environment for you to discuss any sexual health concerns. Whilst pharmacists may not be able to treat, or advise on every condition, they can act as a triage service, ensuring women know how to get support that they need.
Depending on where you live, some pharmacies offer specific sexual health services: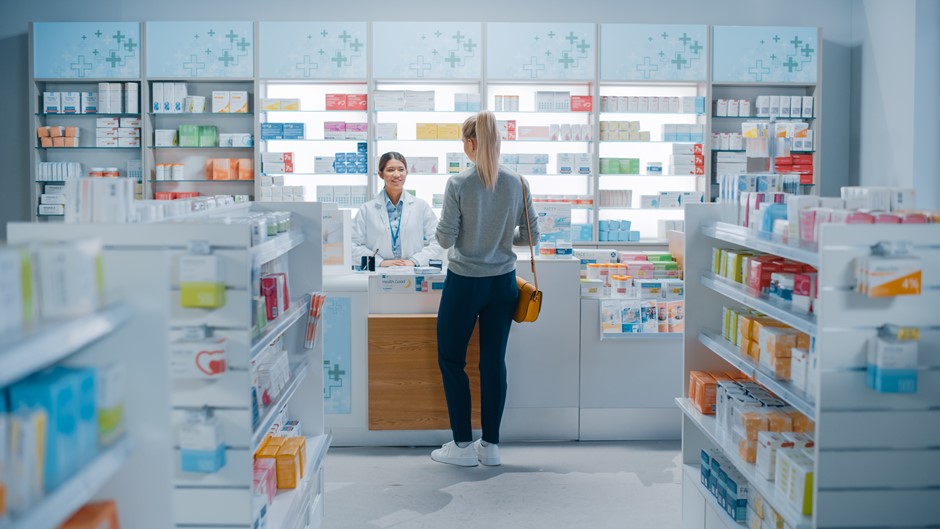 Community pharmacy and STI testing
There are a range of sexual health services available from some local pharmacies. These can include chlamydia screening and treatment, STI kit 'click and collect' service, HIV testing and condom distribution schemes. When you go to a pharmacy regarding your sexual health you will be taken into one of the private consultation rooms to discuss the concern with a pharmacist who will then ask some questions to find the best option for you. You will be given the appropriate medication, testing kit or details of where to get further support, and will have the opportunity to ask any questions to a pharmacist in confidence.
Community pharmacy and contraception
Emergency contraception, also known as a morning after pill, has been available to buy in pharmacy for over 20 years. Depending on when you had unprotected sex or your usual contraception method failed, a pharmacist will be able to recommend the most suitable option for you. LoviOne, for example, is an emergency contraceptive containing the active ingredient levonorgestrel and is 99% effective when taken within 24 hour of unprotected sex. In some pharmacies, emergency contraception may be available free of charge.
In 2021, Lovima, a progestogen only contraceptive pill, became available to buy over the counter in pharmacies without a prescription. This means that you can access daily contraception following a short consultation with a pharmacist instead of seeing your GP.
In some areas of England, an NHS contraception service is being trialled, which means you could access daily hormonal contraception free of charge from your pharmacy.
To learn more about the sexual health and contraception services that your local pharmacy provides you can use the NHS find a pharmacy tool. Simply enter your postcode, click on the pharmacy closest to you, and visit the 'treatments and services tab'.