A Contraceptive pill, Lovima, is now available to buy without a prescription
When it comes to contraception, we believe you should be in full control. The launch of Lovima means women can purchase this contraceptive pill online or from the pharmacy, by consulting with a pharmacist. You don't need to make an appointment to see your doctor or visit a family planning clinic to get a prescription. With Lovima, you can feel confident and empowered to make a  choice for you and your body.
Lovima is a brand of oral contraceptive that contains desogestrel, a medication that was previously only available on prescription. What's more, Lovima is 99% effective at preventing pregnancy, provided that you take it correctly and at the same time each day from the start of your menstrual cycle. Putting You In Charge
Lovima puts you in charge of your contraception choices. Following a consultation with a pharmacist, you can buy Lovima online or from your pharmacy. Choosing to switch to Lovima is simple and convenient, and you can be in full control every step of the way. Easy Access
Lovima is available online and at your pharmacy, making it easy for you to access this contraceptive pill without a prescription. Whether you choose to buy online or in-store, a qualified pharmacist will take you through a consultation to ensure that Lovima is suitable for you. Convenient
With Lovima, there's no need to make an appointment to see your doctor, which means no more GP waiting rooms. Simply complete our six-question suitability consultation, and if Lovima is right for you, you can access this progestogen-only pill quickly and easily.
What is Lovima?
An effective female contraceptive pill, Lovima is available to buy without a prescription.
Learn more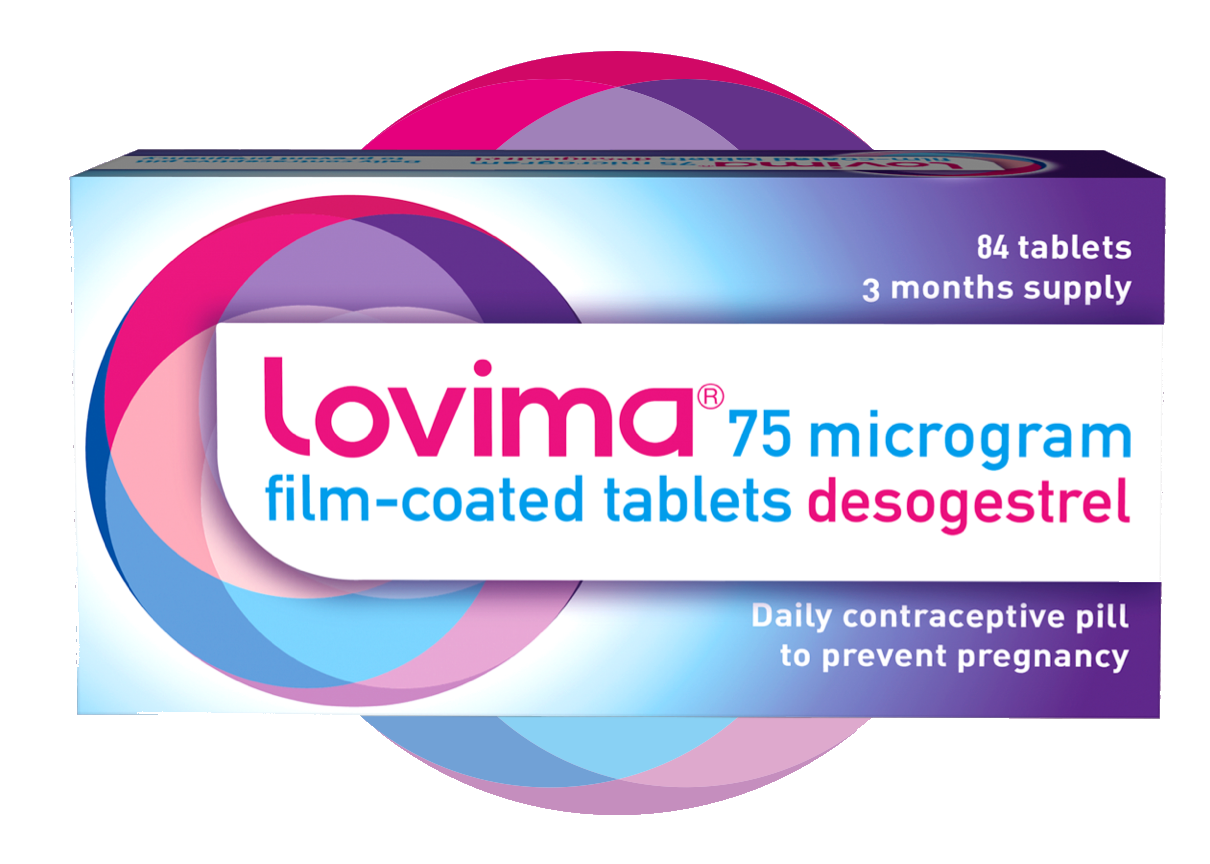 Get your hands on Lovima today
Lovima is available to purchase online and from participating pharmacies following a consultation with a qualified pharmacist.
Buy now
Lovima is part of the revolution to make it easier for you to access the contraception you need, when you need it. The first contraceptive pill was introduced to the UK in 1961 - and so much has changed since then. Fast forward to today and being able to buy Lovima means no more doctor appointments, no more waiting rooms and no more prescriptions. Instead, you can access this over-the-counter contraceptive pill online or from your pharmacy. So why not become part of this revolution? Browse our site or ask your pharmacist about Lovima today.